Osher Lifelong Learning Institute at the UW
Listen to the Forever Curious Podcast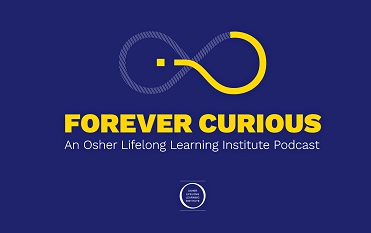 Learning doesn't stop when you hit 22 or 25, so why should it stop at 50 or 70 — or ever? The Osher Lifelong Learning Institute at the University of Washington (OLLI-UW) is for people who are truly lifelong learners and forever curious about the world around us.
This podcast, Forever Curious, is full of discussions with experts, lectures, conversations with OLLI-UW members and more. Join us for engaging episodes on a range of topics, from literature and history to science and ethics, and learn for the joy of learning.
You can play each episode below or subscribe now wherever you listen to podcasts.
Episode 11: Tikkun Olam
There are 125 OLLI programs all over the United States, with at least one in each of the 50 states. In the first half of this episode, we'll explore Bernard Osher's 1977 decision to practice tikkun olam (Hebrew for "repairing the world") and create the Osher Lifelong Learning Institute. In the second half, we'll talk to students from an OLLI-UW class in podcasting and hear their thoughts on why the program is so valuable to them.
---
Episode 10: A Taste of OLLI
In this episode, you'll sample a "flight" of five OLLI courses and savor a medley of lectures that feed the Forever Curious. David Fenner found his spirit of adventure while traveling and learning in the Middle East. Deborah Leblang's interest in art and architectural history helps her better understand cultures. Ellen Berg has taken sociology around the world to teach her students about their culture from a new and creative perspective. Art historian Rebecca Albiani shares her passion for world art masterpieces, bringing meaning and context to her lectures. And Sean Taylor serves as a tour guide for the hero's journey narrative archetype that started with Beowulf.
---
Episode 9: Telescope Technology: Learn About the Webb
Bruce Balick's long and distinguished career at the UW doesn't go back quite as far as the Big Bang, but his impact on the University's astronomy program is nearly as significant. In this episode, Bruce talks about his path to a career in astronomy and gives a lecture on the James Webb Space Telescope and how our knowledge and expertise has increased since the early days of the Hubble Space Telescope.
---
Episode 8: To Hell and Back
Jordan Ray Claytor, a graduate student in the biology department at the UW, is trying to answer questions about life in "deep time" by exploring fossilized creatures in the rock layers of Montana's Hell Creek region. Hear Jordan's fascinating presentation about the discoveries of paleontology and how the study of the past can provide insight into life today.
---
Episode 7: Our Extraordinary Bird Lady
Master birder and nature author Constance Sidles has an encyclopedic knowledge of birds. She's written for 65 different publications and is the CEO and founder of Constancy Press, a publisher of short-run, high-quality books for specialized markets. She's also taught many classes in the OLLI-UW program. Constance shares her expertise with us in this fascinating conversation.
---
Episode 6: Art in Context
In this episode, host Murray Urquhart and guest Misha Berson talk through the value of the arts and the benefits of reviewing and discussing art. Artworks exist in context — the time they were first created and the current times when they are consumed. How do we engage with art when the environments of the artist and the audience are separated by time, space and experience?
---
Episode 5: Faith, Spirituality and Organized Religion
How do we discuss highly emotional and sensitive topics, like religion and faith, while staying civil? Why even take on the topic if the conversation is likely to be so emotionally fraught? David Smith, a popular lecturer in the OLLI-UW program, has spent a lot of time considering these questions. In this open and forthright conversation, David and host Charlene Joy and a panel of OLLI-UW members discuss questions of anger, broken family relationships, loss and grief. If you haven't discovered David's courses yet, you'll certainly want to after you hear this episode.
---
Episode 4: You Heard the Lecture, Now Meet the Scholar Behind It
This episode is a discussion with Brian Gutierrez, our lecturer from Episode 3 about Frankenstein. Brian takes us on a journey through the culture, ideology and philosophy of the time period when Frankenstein was written, especially the science, literature and company that author Mary Wollstonecraft Shelley was immersed in. Learn the deep history surrounding one of the most iconic — if not entirely understood — stories in English literature from an engaging speaker.
---
Episode 3: Frankenstein: Revisited
OLLI-UW is renowned for its extraordinary lecture series, and this episode is no exception. In this talk, Frankenstein expert Brian Gutierrez delves into the history behind the famous novel and how it continues to have resonance today. There's so much more to the story and the culturally iconic monster than most of us know.
---
Episode 2: How to Find and Hear Your Next Podcast Binge
If you want to listen to a podcast, do you have to "borrow" your neighbor's 14-year-old to figure out how? In this one-hour workshop by OLLI-UW, podcast producer Shannon Perry shows us how to find the right podcast app, how to discover your next binge-worthy show amid all the options and how to support the shows and creators you love. All without the assistance of a 14-year-old, if you don't have one handy.
---
Episode 1: What Is Osher and Why Am I a Member?
Welcome to Forever Curious, the podcast of OLLI-UW! In this episode of Forever Curious, we ask members of OLLI-UW why they joined and why they stay. Plus Natalie Lecher, director of OLLI-UW, answers the question that might be on your mind: Why listen to this podcast?